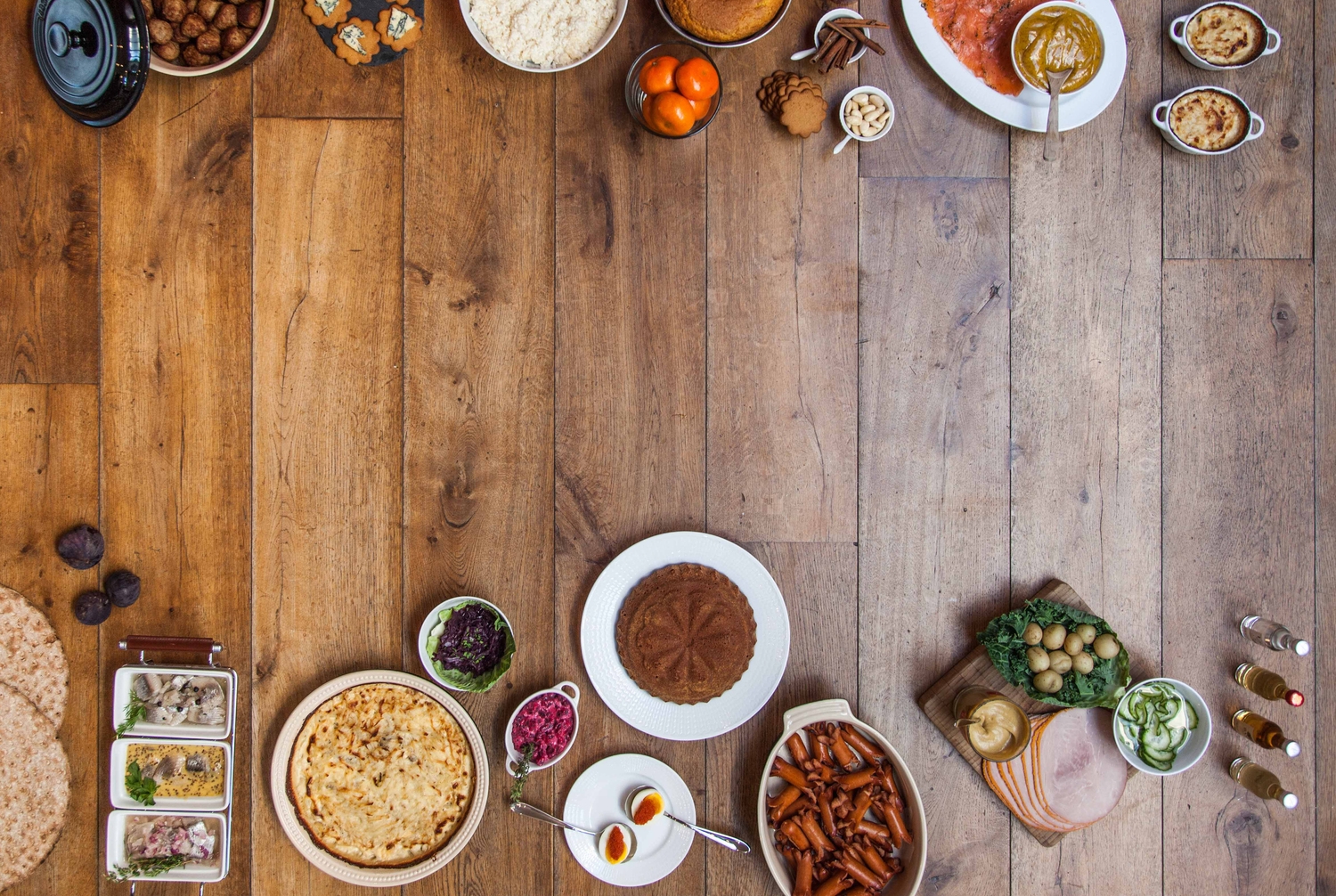 SWEDISH
CHRISTMAS
POP UP DINING THROUGHOUT NOVEMBER & DECEMBER
Forget the 'Conventional Christmas', step into a world of Swedish surprise in this unique pop up restaurant in central London...
Swedish Christmas offers you the chance to celebrate in an exciting Scandi-chic environment where food is only one part of the experience... Swedish Christmas is a journey for all senses.
Enjoy sampling all the culinary delights you desire from the exuberant Smörgåsbord feast, whilst joining in with traditional snaps-songs. Embrace the festive season in a modern, candle lit Scandi-inspired setting.
THE WARM UP
Enjoy a complementary glass of home made Glögg (Swedish Mulled Wine) upon arrival
THE FEAST
Our chefs are preparing a mouth-watering selection of Swedish delights for you to pick and mix as you see fit from the Julbord. Choose as much as you like from over 35 dishes. Traditionally you are meant to sample all the dishes over 7 visits to the Julbord. Elastic waistband recommended.
THE BAR
Enjoy a cocktail (or a few!) from our specially designed Christmas Cocktail Menu inspired by seasonal ingredients from Sweden. Our Drinks Menu has been created by Co-Founder & award winning mixologist Fredrik Olsson.
Phone
+44 (0) 207 859 4780
Email
christmas@skandilicious.co.uk
Location
Each year Skandilicious pops up at a different location - in 2018 you find us on the Fulham Road
DateS
Selected Dates throughout November + December 2018 (go to Book Tickets to find available dates)
How to find us - Christmas 2018
Phone
+44 (0) 207 859 4780
Email
christmas@skandilicious.co.uk
Location
Swedish Christmas
343 Fulham Road
London SW10 9TW
Dates
21 November - 19 December 2018
(please go to Reservations to find available dates)
Hours
Dinner & Drinks (Mon-Weds) 18:00 -00:00
Dinner & Drinks (Thu-Sat)
1st Seating 18:00 - 21:00
2nd Seating 21:00-00:00
Lunch (Saturday & Sunday) 12:30 - 15:30
Swedish Christmas Breakfast or Lunch (Weekdays)
Christmas breakfast, lunches, dinners and other bespoke events are available for groups of 20 & above and can be arranged outside of normal business hours. Please email christmas@skandilicious.co.uk for details.
Bookings
Tickets to the Swedish Christmas Feast are £45 and include a welcome Glögg and the all-you-can-eat Swedish Christmas Smörgåsbord.
For group bookings and to enquire about exclusive hire, please call +44 207 859 4780 or email christmas@skandilicious.co.uk
FAQs
What is Snaps?
Snaps [snaps] is a Swedish word for a small shot of a strong alcoholic beverage taken during the course of a meal. Drinking snaps is a tradition in Sweden and the Scandinavian countries, where it is very common to drink snaps at holidays such as Midsummer, Christmas and Easter. Try our carefully curated selection of Snaps and join the Skandilicious sing-a-long-song.
Are there ID requirements to enter the event?
We don't like wasting paper so instead of bringing a printout of the booking confirmation the lead booker of your party will be required to present his or hers ID together with the booking reference upon entering the venue.
What is included in my ticket?
The ticket price includes a warm welcome drink and the all-you-can-eat smörgåsbord. The tickets do not include any drinks other than the welcome drink.
What about drinks?
You will be able to order soft drinks, wine, beer, cider, snaps and cocktails from our waitresses and waiters before, during and after the meal, and all drinks are payable at the end of the meal.
I want to buy a certain number of tickets but cannot find enough availability – can you help?
If you are unable to find enough tickets for the same day, please contact Skandilicious directly (christmas@skandilicious.co.uk) to be advised on availability. We will do everything we can to help you find a suitable date and time for your party.
Where will Swedish Christmas 2018 take place?
The 2018 edition of Skandilicious will be popping up at 343, Fulham Road, London SW10 9TW.
What are my transport options getting to the event?
The nearest tube stations are Gloucester Road and South Kensington. There are plenty of buses that stop on the Fulham Road where the venue is located.
Gloucester Road (Circle, District & Piccadilly Line) 0.7 miles (4 mins by car, 15 mins walk)
South Kensington (Circle, District & Piccadilly Line) 0.7 miles (5 mins by car, 15 mins walk)
Earl's Court (Circle, District & Piccadilly Line) 0.9 miles (7 mins by car, 19 mins walk)
West Brompton (Overground) 0.9 miles (6 mins by car, 19 mins walk)
Imperial Wharf (Overground) 1.0 miles (6 mins by car, 20 mins walk)
What are the opening hours of Swedish Christmas?
Swedish Christmas will open its doors for dinner at 18:00 most days and at 12:00 for weekend lunches (please check your ticket as there may be a few exceptions). The venue closes at midnight.
Is there wheelchair access?
Yes there is wheelchair access into the restaurant however we are sorry to say that the toilets are located on the lower ground floor (narrow stairs, no lift). Please contact us directly if you have any queries - we promise that we will do what we can to help.
How can I contact the organiser with any questions?
Please contact the Skandilicious team on christmas@skandilicious.co.uk or on 0207 859 4780 if you have any questions.
Our Story
With 60,000 Swedes living in London and a large part of our capital gripped by "Scandimania", Fredrik Olsson & Maria Trechman set up Skandilicious to help make our city a little sweder.
Dedicated to delivering contemporary yet true-to-tradition Swedish experiences, they combine an impressive portfolio of hospitality, event, culinary and design expertise, to create an authentic and truly unique experience this winter.
Passionate about preserving Swedish heritage and excited to engage new audiences in a unique and creative way, Maria & Fredrik bring together a Christmas treat quite unlike any other.